Type Lumina announces DLC character Aoko Aozaki
Information about Type Lumina announces DLC character Aoko Aozaki
Melty Blood: Type Lumina announces DLC character Aoko Aozaki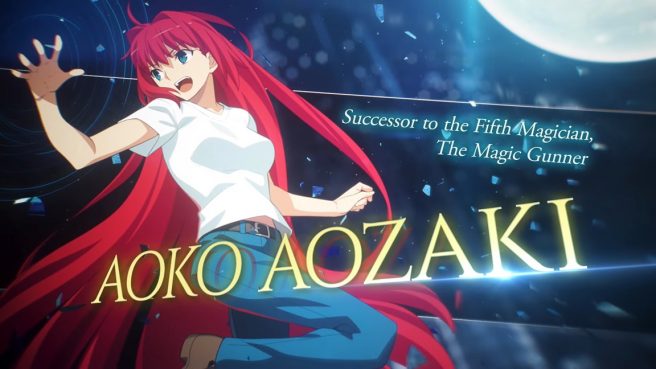 Aoko Aozaki is heading to Melty Blood: Type Lumina as a new DLC character, Project Lumina revealed today. She'll be going live on January 13, 2022.
Aoko Aozaki is voiced by Haruka Tomatsu in the game. Read a bit more about the character below thanks to the official website.
One of only five magicians who exist in the world. Successor to the Fifth Magician. Overall, she is not considered a skilled magician. However, when it comes to "destructive" power, she is unrivaled in her talents. The sight of her raining down bullets like hot geysers has also given her the direct, yet rather tasteless nickname, "Magic Gunner". Who she learned it from is unknown, but she is also familiar with martial arts, and has a battle style that could be considered a hybrid of those martial arts and magic.

She encountered Shiki on her travels. She gives him his glasses that suppress his Mystic Eyes, and teaches him the value of living things and how to handle things. For that reason, Shiki respects her and calls her his teacher. She's a difficult person to pin down. She believes in justice, is unreliable, and a vagabond.
Here's a trailer for Aoko Aozaki in Melty Blood: Type Lumina.
Aoko Aozaki will be available for all players at no extra cost. Last week, we also found out about another DLC character Dead Apostle Noel, who will be coming at a later date – learn more about that here.
Related
Breaking Story – Type Lumina announces DLC character Aoko Aozaki
The Latest News on Type Lumina announces DLC character Aoko Aozaki