Fire Emblem Heroes New Heroes & Ascended Joshua summoning event
Information about Fire Emblem Heroes New Heroes & Ascended Joshua summoning event
Fire Emblem Heroes announces New Heroes & Ascended Joshua summoning event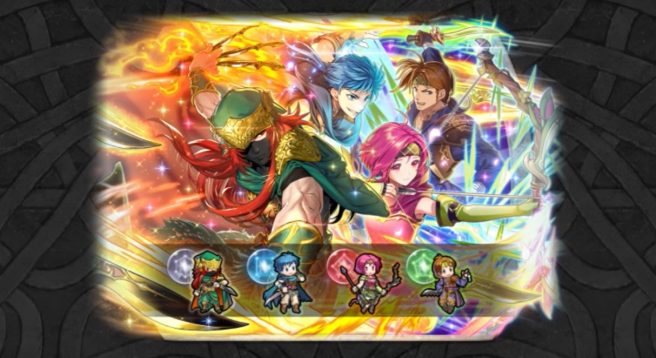 New Heroes & Ascended Joshua will be the next summoning event in Fire Emblem Heroes, Nintendo and Intelligent Systems announced today. It will feature characters from Fire Emblem: The Sacred Stones.
The event will feature Neimi: Tearful Archer (voiced by Giselle Fernandez, art by Hasumi Kaoru), Rennac: Rich "Merchant" (voiced by Landon McDonald, art by Shimomura Watari), Colm: Capable Thief (voiced by Henry Mason, art by Saori Toyota), and Joshua: Resolute Tempest (voiced by Todd Haberkorn, art by Okuma Yugo). Neimi comes with the skills Rapid-Crier Bow, Moonbow, Spd/Res Bond 4, and Joint Drive Res. Rennac has Vicious Dagger+, Glimmer, Atk/Spd Solo 4, and Disarm Trap 3. As for Colm, he features the skills Quick Dagger+, Pivot, Moonbow, Atk/Spd 2, and Atk/Res Link 3. Lastly, Joshua is able to use Blade of Jehanna, Glimmer, Life and Death 4, Null Follow-Up 3, and Green Feud 3.
Here's a trailer for the New Heroes & Ascended Joshua summoning event for Fire Emblem Heroes:
New Heroes & Ascended Joshua will go live on January 6 at 11 PM PT / January 7 at 2 AM ET. Also keep in mind that the next Grand Hero Battle with Riev: Blood Beryl will begin on January 7 at 11 PM PT / January 8 at 2 AM ET.
Related
Breaking Story – Fire Emblem Heroes New Heroes & Ascended Joshua summoning event
The Latest News on Fire Emblem Heroes New Heroes & Ascended Joshua summoning event