Crysis 2 and 3 Remastered Switch update version 1.1.0 patch notes
Information about Crysis 2 and 3 Remastered Switch update version 1.1.0 patch notes
Crysis 2 and 3 Remastered Switch update out now (version 1.1.0), patch notes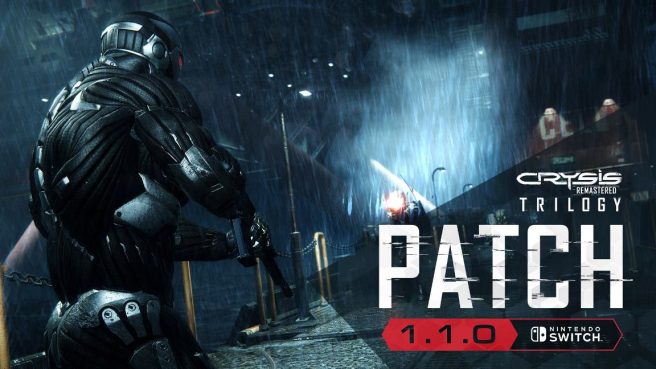 Crytek and Saber Interactive have issued a new 1.1.0 update for Crysis 2 Remastered and Crysis 3 Remastered on Switch. The team has "been working hard over the last couple of days to fix many of the reported issues, improving the visuals and performance which in return should help keep higher dynamic resolution in the games." Other improvements have been included as well.
Below are the full patch notes for the Crysis 2 and Crysis 3 Remastered version  1.1.0 update: 
Stability fixes
Overall performance improvements
Audio fixes
Localization fixes
And art improvements
The Crysis 2 and 3 Remastered version 1.1.0 update is now live for all players. It should also be accessible if you bought the Crysis Remastered Trilogy on Switch. 
Crytek has said that more updates are planned for the Crysis Remastered games before the end of the year. We'll share further information about what's new and improved when the patches go live.
Crysis 2 and 3 Remastered both just launched on Switch last week. The first-person shooters follow Crysis 1 Remastered, which first appeared on the system in July 2020. 
Fans of the Crysis series can explore the official website here, which has lots of additional information about the different games.
Related
Breaking Story – Crysis 2 and 3 Remastered Switch update version 1.1.0 patch notes
The Latest News on Crysis 2 and 3 Remastered Switch update version 1.1.0 patch notes