Card Shark delayed to 2022, new trailer
Information about Card Shark delayed to 2022, new trailer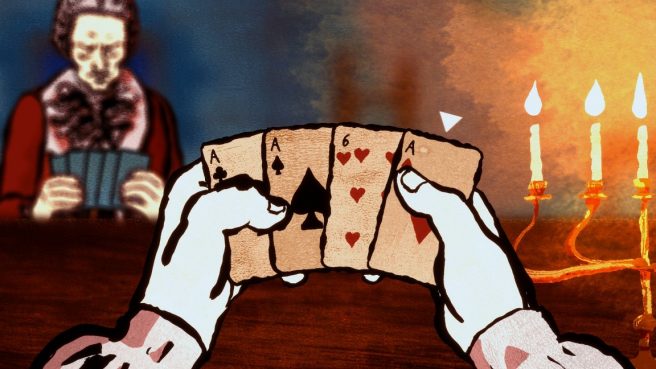 Card Shark, an adventure game that was first announced for Switch in August 2020, has been delayed. Publisher Devolver Digital and developer Nerial have confirmed that the project has shifted to 2022. The game was originally expected by the end of 2021.
Card Shark is an adventure game full of cunning, intrigue, and delectable deceit. Enter a world where you'll need to play your opponents better than you play your cards.

Cheat your way to the top of 18th-century French society. Master deceptions using card marking, false shuffles, deck switching, false deals, and more! Use your ill-gotten gains to buy your way into the closed world of high-stakes tables.

… as you climb from local card parlors to the King's table. A word of advice: Don't get caught. Your fellow gamblers do not take kindly to cheats…

Discover small towns, remote mansions, and luxurious lounges imagined by Nerial team (Reigns) game creator Arnaud De Bock (Pikuniku). Immerse yourself in the ornate visual artwork of Nicolai Troshinsky. Have your every move accompanied by an original score from Andrea Boccadoro as interpreted by an orchestra.
It's not all bad news for Card Shark, as we do at least have a new trailer going along with today's delay. Give it a look below.
You can access the official site for Card Shark here.
Related
Breaking Story – Card Shark delayed to 2022, new trailer
The Latest News on Card Shark delayed to 2022, new trailer