Car factory simulation game Production Line heading to Switch
Information about Car factory simulation game Production Line heading to Switch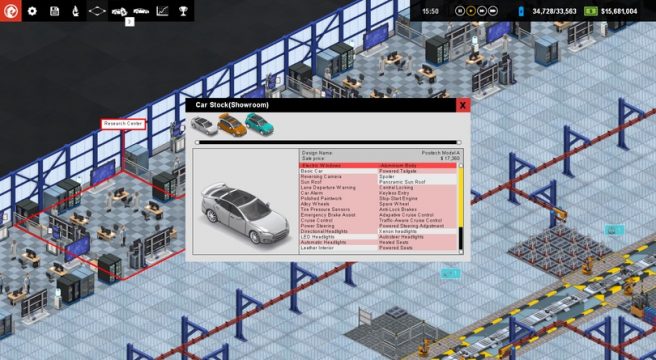 Publisher Klabater, in partnership with developer Positech Games, has announced plans to put Production Line on consoles. The car factory simulation game is planned for Switch, though there's no word on release timing at present.
Production Line previously earned a positive reception on PC. The game features a mix of factory management, simulation, and tycoon mechanics.
Here's a rundown of key features in Production Line:
– Take part in a challenging race to be productive and to be profitable at the same time
– Expand your car factory and research new methods of production to become a car industry giant
– Design and build your car factory using the approach discovered by Henry Ford. Ford's system became a blueprint for the assembly line revolution and is still used in high-tech factories today
– Hire product design researchers to enhance your cars with new technologies such as automatic headlights, power – steering, Bluetooth phone support, and voice recognition
– Seek out and fix inefficiencies that may affect the carefully planned production process
– Make use of every square meter of your factory, and cut production costs per car to the absolute minimum
You can find a trailer showing Production Line in action below.
We'll have more on Production Line in the future, including a final release date on Switch. For now, you can explore the official website here.
Source: Klabater PR
Related
Breaking Story – Car factory simulation game Production Line heading to Switch
The Latest News on Car factory simulation game Production Line heading to Switch